Hello, We Are ZQuiet.
We are here to help you or your bed partner stop snoring, sleep better and improve your relationship. We've already helped millions of people — and we're on a mission to help millions more.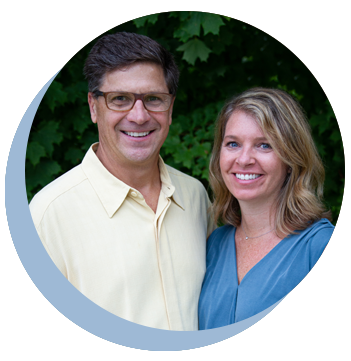 Meet Dan and Trina, Our Co-Founders
Why are we driven to change the world, one less snorer at a time? It's personal: Our co-founders Dan and Trina know the pain and stress of snoring. We can relate to your struggle. Dan's snoring impacted his health and kept his wife Trina up at night. Add starting a family to the mix (goodbye sleep!), and they had a recipe for relationship stress. Sound familiar? Together, they decided to solve Dan's snoring problem — and strengthen their marriage, too. After all, life's too short to sleep in separate bedrooms.
A Simple & Effective Way to Treat Snoring
Dan and Trina developed the ZQuiet mouthpiece in 2008 in collaboration with dental and medical experts. It was an overnight success. Today, our FDA Cleared mouthpiece has helped more than a million people stop snoring.
Will you be next? Since 2008, we have added even more products to help snorers and bed partners of snorers, including nasal breathing aids and earplugs.
We Love What We Do (And Have Fun Doing it!)
We have created a hands-on company that thrives by helping others.
Our team is amazing. Every single person cares about our customers and their personal journey. It's what fuels our work. We are passionate about helping people and providing solutions that are easy and — wait for it — affordable.
Dan and Trina are still involved in just about every aspect of ZQuiet. Trina loves to answer customer service calls and emails to connect with our customers and learn about their struggles and successes. Dan is always in the R&D lab tinkering with new and innovative ways to help people sleep better. (He's a little nerdy that way. But, as long as he's not snoring, Trina is happy).
Did we mention our office dogs? They keep us laughing and smiling
ZQuiet Makes Snoring Aids That Work!
You probably don't realize the toll that snoring is taking on both you and your loved ones. Sleepless nights lead to less energy in the morning as well as more sleep-related health risks. Don't settle for another restless night of snoring. With ZQuiet, you can wake up refreshed and revitalized.
About Our Snoring Solutions
If you are seeking solutions to stop snoring, ZQuiet offers a range of solutions to help you stop snoring. Our ZQuiet mouthpiece stops what causes snoring at its source. We also have other snoring remedies, including earplugs for sleeping, snoring aids like our nasal dilator, and more.

ZQuiet was founded in 2008 when it released the first in its line of snoring solutions: the ZQuiet mouthpiece, developed in collaboration with dental and medical experts. This FDA-cleared device has helped millions of people stop snoring.

ZQuiet now offers a range of products to help snorers and the bed partners of snorers and continue to develop and refine the best anti-snoring products available.